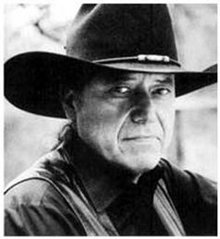 John Nieto is widely regarded as one of America's most accomplished, dynamic and exciting contemporary artists. His work concentrates on themes that transcend mere representation. His liberal use of intense primary colors, applied in bold strokes creates both dimension and character on the canvas. His etchings and drawings exemplify classic linear techniques resulting in images of great detail and depth. All of Nieto's art projects a sensitivity and respect for his subject. His work personifies his unique vision of the subjects he paints on canvases alive with vibrant, electric hues.
Nieto's work reflects his upbringing from Hispanic and American Indian parents whose New Mexican roots can be traced back over 300 years. His unfettered use of brilliant colors has been likened to the 1920's French Fauvist movement, which impressed him greatly during a visit to Paris. His time in Paris also exposed him to another strong influence – Expressionism, where the sub-consciousness of artists manifested itself on canvas.
Nieto's distinctive style, combination of subject matter, bold comparisons and searing color, is instantly recognizable and collectors throughout the United States and abroad prize his work. He has produced bronze sculptures, etchings, lithographs and silk- screen prints, in addition to drawings in pastel crayons and charcoal. The past several years, however, have been devoted almost exclusively to painting.
After participating in an exhibit at the John F. Kennedy Center for the Performing Arts in Washington, D.C. John met with President Reagan in the Oval Office of the White House and presented him with the painting "Delegate to the White House". The painting hung in Washington for the duration of the President's term in office and now has been included in the presidential library.
In 1981 John participated by invitation in the "Salon d'Autumn" at the Grand Palais, Paris, France and in 1989 he mounted a one-man show at the Axis Gallery in Tokyo, Japan. Each summer he has an annual exhibition in Santa Fe, NM at Ventana Fine Art and Altamira Fine Art Gallery in Jackson Hole, WY.
John received the New Mexico Governor's Award for Achievement in the Arts in 1994 and has served on the Advisory Boards for both the Wheelwright Museum in Santa Fe and the Native American Preparatory School. He currently resides in Texas.
Education
BA from Southern Methodist University, Dallas, TX 1957-1959
Selected Collections
Buffalo Bill Museum/Whitney Gallery of Western Art, Cody, WY, permanent collection
Museum of Contemporary Art, permanent collection, Hot Springs Arkansas, 2007
Booth Western Art Museum, acquisition permanent collection, Cartersville, GA 2007
Jackson Hole Museum, permanent collection, Jackson Hole, WY 2005
The Blanton Museum of Art at The University of Texas at Austin, permanent collection, 2002
Capital Art Foundation, Santa Fe, NM, permanent collection New Mexico Museum of Fine Arts, Santa Fe, NM, permanent collection Denver Art Museum, Denver, CO, permanent collection
Marine Corps Museum, "Iwo Jima," 48"X 6O" canvas, permanent collection, Washington, DC 1984
The Heard Museum, Contemporary Native American, permanent collection, Phoenix, AZ, 1983