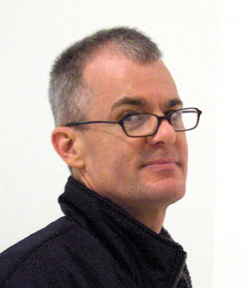 Christopher Pelley
Born in Pittsburgh, Pennsylvania (USA) to Canadian parents and raised in New England, Pelley attended Syracuse University and received his BFA summa cum laude from Arizona State University. He has traveled extensively across Europe, India, North Africa, Mexico and China, and now divides his time between New York City and Rome, Italy. Christopher Pelley's paintings reflect these diverse cultural and geographic experiences with the interplay between the real and the imagined, identity and history, and myth and memory in the work. Julie Sasse, Curator of Modern and Contemporary Art at the Tucson Museum of Art (Tucson, AZ USA) has written: "Richly painted and abundant with metaphoric imagery the works are not only aesthetically pleasing but intellectually complex". Critic Joyce B Korotkin adds "[Pelley] forces the past and present to co-exist on the same plane echoing the manner in which successive civilizations rise and fall on top of one another."
Christopher has exhibited in, among other places, New York, Los Angeles, Chicago, Denver, Toronto, Budapest and Beijing. His work has been acquired by public and private collections including the Austin Museum of Art, (Austin, TX USA), The Mint Museum of Art, (Charlotte, NC USA) and the Hechinger Collection – Tools as Art, in Washington, DC.
Artist Statement
I belong to the great American tradition of sampling. From Thoreau to contemporary dance music, it has been a hallmark of American culture.
In Sister Mary Theresa's third grade ancient history class, I was introduced to the concept that a lot had happened before me. Somewhere, outside of my small Vermont town, there were piles filled with the detritus of a progression of ancient civilizations. This image gripped my schoolboy imagination and has never let go. At age 16, I dropped out of high school and left my Vermont town to travel to India. These events proved to be pivotal and helped shape my ongoing pursuit of the relationship of the past to the present and the present's influence on the perception of the past.
While I am a visual artist in the traditional sense, and work primarily with oil on canvas, I use post-modernist conceits, visual metaphors and enigmatic narratives to explore the inner psyche - that space somewhere between myth and memory, the heroic and the quotidian. I use the vocabulary I am conversant in – that of western art history.
The paintings, and indeed in almost all of my work, the drawings, collages and sculptures, are built up in layers over time both revealing and concealing imagery. With the images chosen - both those revealed and those concealed - I try to connect to the larger world and the social issues that permeate it: surveillance, environmental degradation, sexuality and disease. These issues remain unresolved and every epoch tries to grapple with them through religion, myth and tradition. My voice is one more to be added to the cacophony.